Rev. Fran Brown's Biography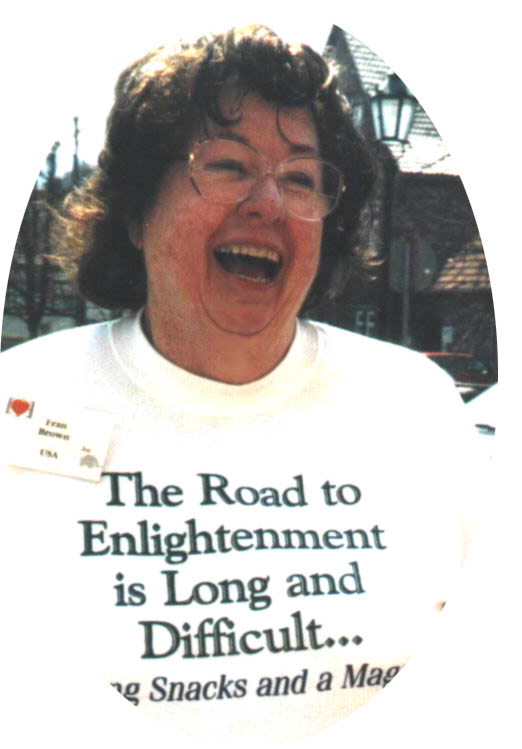 The winter of 1973 Hawayo Takata was invited to the San Francisco Bay Area to teach a class in Reiki. I was in that class. She taught Reiki to many people here. In 1977 I took Second Degree Reiki and in the first week of January, 1979 I took my master's training with her as her seventh master and began teaching Reiki anywhere people want to learn Reiki as taught by Hayashi and Takata.
These thirty years of teaching have taken me to many parts of the world. In 1997 I was asked to come to Japan and teach Hayashi's system and in 1999 it was my privilege to meet with members of the group founded by Usui as well as students and masters taught by Chujiro Hayashi. We compared teachings and initiations and were delighted to find them to be similar.
Hayashi's organized the hand placements taught by Usui so that it was easier to teach Reiki. Takata says that he never changed any of the teachings and asked her not to change them either, nor have I.
Students Fran Brown Made Masters:
Victoria Suzanne Crane
Carl Brown*
Dorris Denby
Kristine Wilson
Noella Marie Dubois
Patrick Dumont
Howard MacFarland*
Dominique Billoud
Nancy Sampson, RN*
Jean Paul Picquier

Candidates:

Eloise Jonas
* Denotes Deceased
Masters By Intensive Retraining:
Roger Papineau
Vanessa Chan
Barbara Poshinger
DeLora Purinton
Elizabeth McKeon
Adi Stoff, PhD
Kenichi Takahashi
Atsuko Izumi
Akira Izumi
Philomena Baker Myerowitz
Luc Noyen
Eliane Fraiponts